Primary Care Physician Accepting Near patients in Sugar Land TX
Are you in the Sugar Land  or sorrounding area, seeking doctors who specialize in primary care or family medicine and are accepting new patients? Look no further.
We warmly welcome new patients for a variety of services, including chronic disease management, primary care, wellness checks, weight loss programs, and sports physicals. Reach out to us by calling (281) 313 0662, or feel free to visit us directly at our clinic, located at 16645 W Airport Blvd, Sugar Land, TX 77498 . We are ready and equipped to provide immediate care and service to cater to your health needs.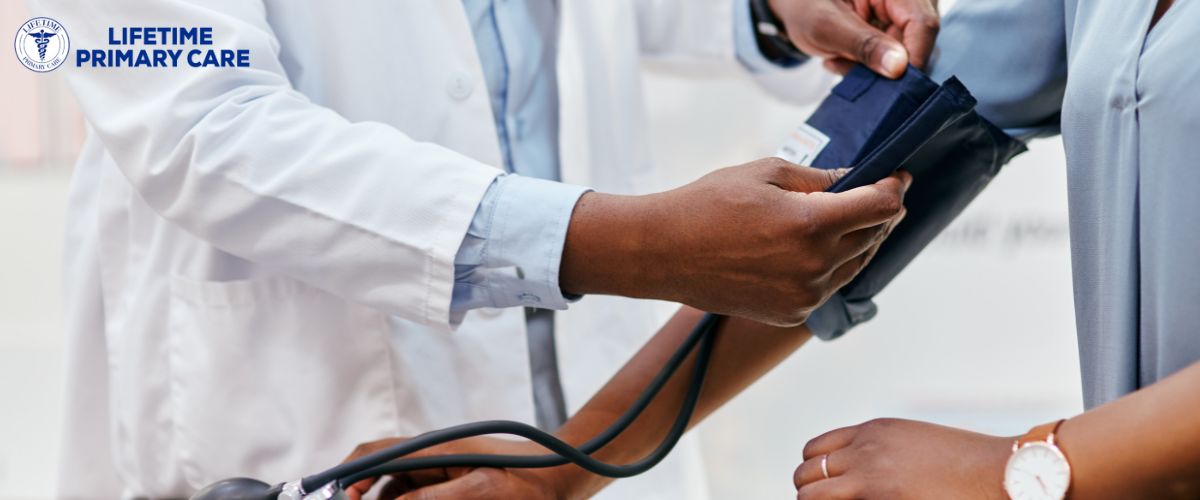 Comprehensive primary care services, including the management of chronic diseases in Sugar Land.
At Lifetime Primary Care, we offer an impressive blend of dedicated healthcare professionals and robust systems working together seamlessly. Their all-encompassing approach ensures that the patient is always at the forefront, providing not just treatment, but also education and resources to manage their condition in the long run.
Chronic disease management, often seen as a challenging aspect of healthcare, is tackled here with remarkable expertise and commitment. Their model is built around the core principles of prevention, treatment, and management, catering to the unique needs of every patient who walks through their doors. The strength of our primary care clinic lies in its inclusivity, offering support not just to the patient but also to their families.
Accepting New Patients
We are accepting new patients with Appointment / walk in basis and offering the following services what you can expect:
 Primary Care Services: These are general health services provided to all    ages, genders, and diseases. They include:
Regular check-ups and physical exams, including vital signs monitoring.
Preventive care, such as immunizations and screenings.
Diagnosis, treatment, and management of common illnesses and conditions, such as infections, flu, minor injuries, and skin conditions.
Referral to specialists if a specific condition requires specialized attention.
Chronic Disease Management: This involves managing long-term conditions such as diabetes, hypertension, asthma, heart disease, and others. Services may include:
Regular monitoring and adjustment of medication.
Health education to help patients understand their condition and manage it effectively.
Regular tests to monitor the progression of the disease.
Lifestyle advice and support, including diet and exercise recommendations.
 Women's Healthcare: This includes a range of services that address the   specific health needs of women. Some of these are:
Regular gynecological check-ups, including Pap tests.
Family planning and contraceptive advice.
Pregnancy care, including pre-natal and post-natal care.
Menopause management and advice.
Medical Weight Loss Programs: These are medically supervised weight loss programs that are more comprehensive and safer than typical diet programs. They usually include:
An initial assessment to understand the patient's health status, weight loss goals, and readiness to participate.
A personalized diet plan designed by a nutritionist or dietitian.
Regular monitoring of the patient's progress.
Behavior modification therapy to help the patient develop healthier eating and exercise habits.
Ongoing support and motivation to help the patient achieve their weight loss goals.
Doctor for Family Medicine
Dr. Misbah Kalair, MD is a Family Medicine Specialist in Sugarland, TX, and has over 20 years of experience in the medical field. Dr. Misbah Kalair earned her Doctor of Medicine at Rawalpindi Medical College in Pakistan in 2001. She completed her Obstetrics and Gynecology residency at the Pakistan Institute of Medical Sciences in Islamabad in 2008. She then completed her Family Practice residency at Southern Illinois University School of Medicine in Springfield in 2015. Prior to starting her own practice she cared for patients at Kelsey Seybold clinic in Pearland. She cares for patients of all ages and at all stages of life. She is accepting new patients and has indicated that she accepts telehealth appointments. Dr. Misbah Kalair, MD is the best and most affordable Primary Care Physician in Sugarland TX 77479
Biography
Dr.Kalair is a Board Certified Family Physician for the past 7 years. She is currently practicing at 16645 West Airport Blvd, Sugarland TX 77498. She completed her residency in 2015 from SIU School of medicine in Springfield IL She was awarded a fellowship by The American Academy of Family Physicians (AAFP) in 2015. She moved to Texas in 2016 and has worked in urgent care and family medicine setting since then. Dr Kalair has a strong background in OB/GYN and has special interest in women health. Dr.Kalair is a member of the American Academy of Family Physicians, Texas Academy of Family Physicians and Harris County Medical Society. Dr.kalair's Philosophy of care is to provide patient centered healthcare with excellence, quality and accessibility. She cares for patients of all ages but especially enjoys treating chronic medical conditions like hypertension, diabetes, high cholesterol and thyroid illness. She places special emphasis on preventive health and treats various gynecological disorders in females. She also cares for urgent care patients and accepts walk ins. originally from Pakistan, Dr. Kalair moved to United States in 2008. She is fluent in English, Hindi, Punjabi and Urdu. Her Family Practice specialty has helped her achieve a perfect balance between her professional and personal life. She is married and has 4 children. Dr.kalair enjoys cooking, swimming, sports and traveling.